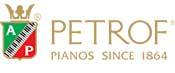 PETROF PIANOS
PETROF מלניק פסנתריםIs the exclusive importer of Quality Pianos
PETROF PIANOS Manufactured in the Czech Republic for more than 175 years, the plant was founded by Antonin Petrop in 1864 and is managed by the Petrov family of the fifth generation.
PETROFIs the largest pianist in Europe today.
PETROF PIANOSAre made up of 100% European components and have the prestigious standard label- EUROPEAN EXELLENCE. This standard is given to a limited number of elite plants for pianos in Europe, for example SAUTER ; STEINWAY& SONS (Hamburg); GROTRIAN; .STEINGRAEBER & SOHNE ; BLUTNER
PETROF PIANOS Ranked in the professional literature in the highest category - Performance Grade Pianos. (See PIANO BUYER AMERICAN).
PETROF PIANOS - The perfect purchase.
Highest quality at best price! !Best Value for Money
PETROF PIANOSYou are welcome to come Melnik PianosPlay and be impressed by the amazing sounds of
To Catalog
Melnick Pianos provides a variety of services for Lorm Vipsum Dolor Sit ether
Information
Lorem Ipsum Dolor Sit Emmett, Consecturer Edificing Elit Consecrator Edificing Elit. Seth Almankum Nisi Nun Neeva. Des Eyacoles Volopte Diem. Vastibol at Dolor, Karras Agat Lactus Val Augu and Stibolum Solisi Tidum Balik
Lorem Ipsum Dolor Sit Emmett, Consecturer Edificing Elit Consecrator Edificing Elit. Seth Almankum Nisi Nun Neeva. Des Eyacoles Volopte Diem. Vastibol at Dolor, Karras Agat Lactus Val Augu and Stibolum Solisi Tidum Balik
Accessibility
Provided by: